I thought I perfected my lasagne recipe. I had it just the way I like it, extra cheesy with a bit of spice BUTTTT I hated having to boil the pasta first and then do the layering process. You're hands get all dirty from the moisture from the pasta and spreading the cheese. I hate making lasagne but I love eating it so when I saw a recipe for one-pot lasagna I jumped right on it. I mean fewer steps, less clean-up…what more do you need. Keep on reading to see how it went.
iNGREDIENTS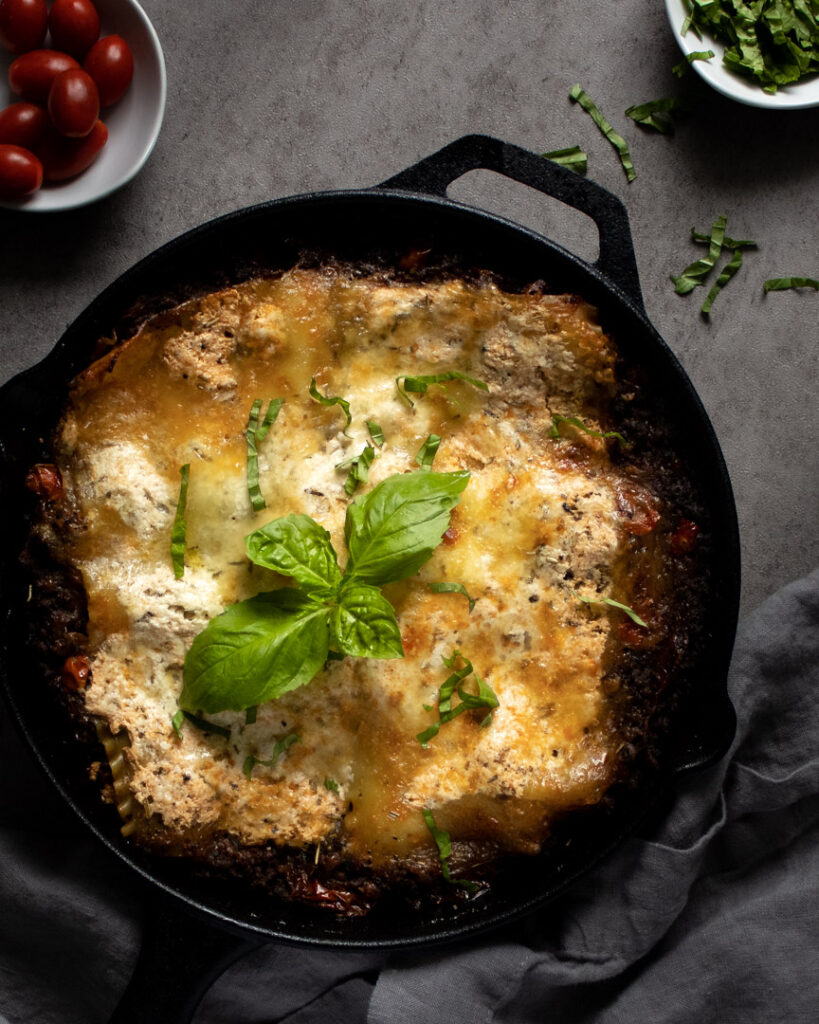 For the lasagna
olive oil
white onion
garlic
tomato paste
plum tomatoes
vegetable broth
ground beef
dry red wine
oregano
dried basil
black pepper
salt
lasagna sheets
mozzarella cheese
For the cheese mixture
ricotta cheese
parmesan cheese
dried rosemary
olive oil
Special Equipment
You are going to need a cast-iron skillet for this recipe. I got mine on amazon. Let me tell you this thing was made to last. I lifted it and I immediately felt one of those cartoon characters whose hands literally fall through the floor after they lift a heavy sword.
What went wrong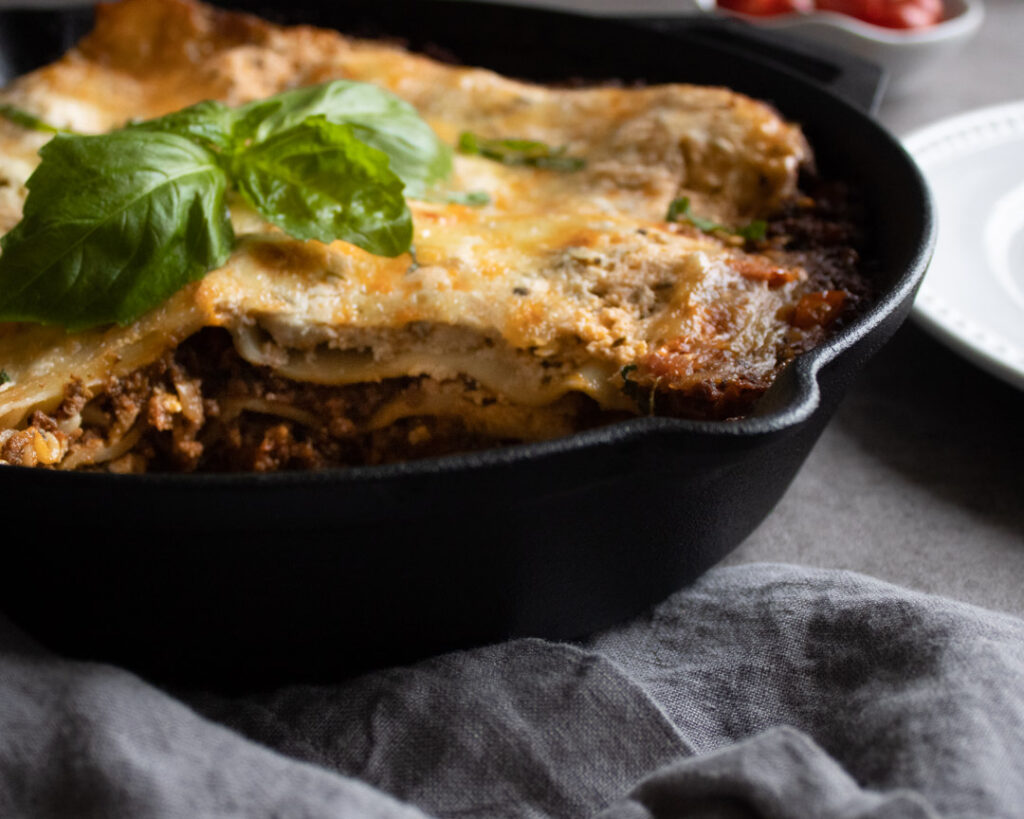 If you watch the video below, you can see my oh no moment. When I went to lay down the first layer of lasagne sheets, the sauce went everywhere. My poor clean stove. Even as I was doing it I was convinced that I was either doing it wrong or something was wrong with this recipe.
My next problem was that the lasagne sheets were rectangular and the skillet was a circle. I don't know if I skipped a step in pre-school but something was not adding up. I felt like there was so much room in the skillet where the pasta would not touch. What I did to try and fix this was interchanging which way I laid the pasta sheets on each layer.
I have never made lasagne without cooking my pasta first so I was concerned that the pasta wouldn't be cooked all the way through but I was wrong. The pasta was nice and al dente. Perfection.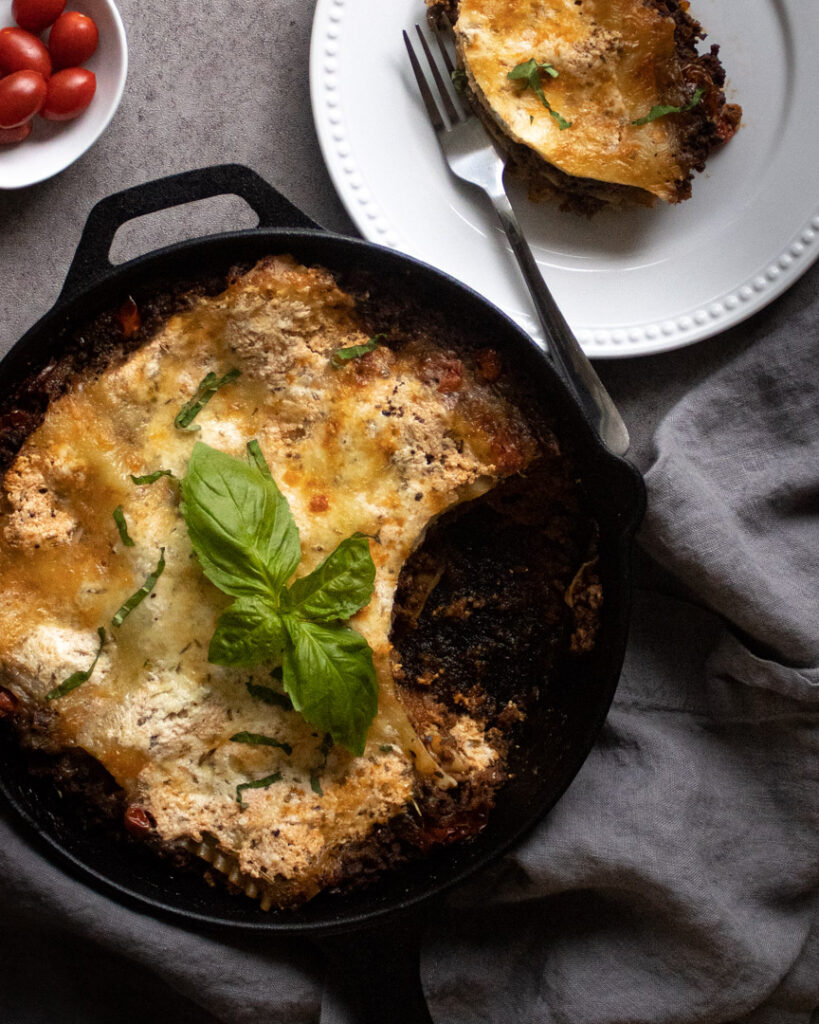 Final Thoughts
Yall I know I listed a lot of issues above but let me end this by saying that this lasagne, this lasagne right here was bomb af. After I was done, I was like I am never making lasagne like this again, it's not worth it to have less clean up. But from the time I tasted the lasagne I was immediately transformed to heaven. I swear I say some old Italian nonna greeting me at the pearly white gates. This recipe deserves a 5 out of 5. Matter of fact this is right up there with the pub burgers. I ate some for lunch today and I want more now. This one-pot lasagna was THAT good.