Bounty – Book One
I am a big fan of K.N. Banet. I think the first book I read of hers was the Redemption Saga. I have stalked her releases since then.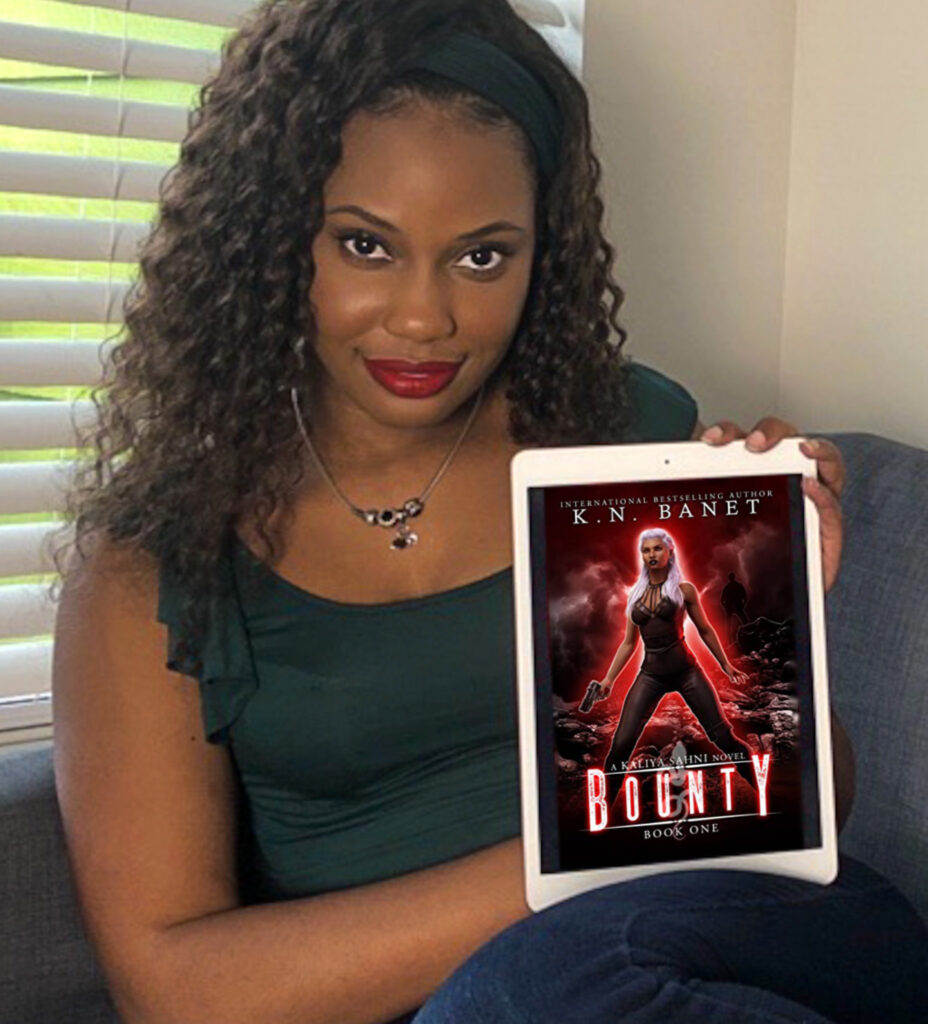 Let me just say Bounty ticked a lot of my boxes for me. We have a badass woman who is independent and at the top of the food chain with a bit of mystery and romance. Take my money!!!
Furthermore, this is the first book that I have read that is centered around an Indian mythical creature. It is refreshing to read about a new species, well new to me.
Kaliya is the last Nagini female, an executioner for the Tribunal, and a bounty hunter in her free time. So an all-around badass. When she walks into a room people stop what they are doing and watch her in fear. She knows her worth and is unafraid to speak her mind. Like any good main character, she's got a past. She holds a lot of hurt and resentment for her role as the last Nagini. Honestly, if I felt like the survival of my species rested on me, I'd be a bit resentful too.
This book starts off basically after the trial in the Jacky Leon series. While there are references to the Jacky Leon series, it isn't totally necessary to read them first. Anyways, Kaliya is on her way back from the trial when she's given a bounty … a human male. Raphael.
When you first start reading you totally think this book is going to be all about Kaliya and the story of the naga but it's mostly about Raphael. A little disappointing but still entertaining.
Honestly, I'm not too impressed by Raphael in this book. He is just too naive. His character felt a bit lacking for me. Even when Kaliya discovers that he is her mate, I found myself thinking that he isn't suited for her really. Yeah, he is strong but emotionally his character feels like it is stuck at the developmental stage of a teenager. I just don't see it working.
Part of me thought that Sinclair would have been the love interest. You know the whole enemy-to-lovers thing. This of course is before shit really hit the fan with those two. Let's just say. Sinclair is not the one.
Final thoughts
This story kept me entertained. I like the world-building and it has just enough mystery to keep me reaching for book two. I still have questions like …. what the heck happened to Sinclair? Why did he turn into a monster? And what the heck is Raphael?
Snared – Book Two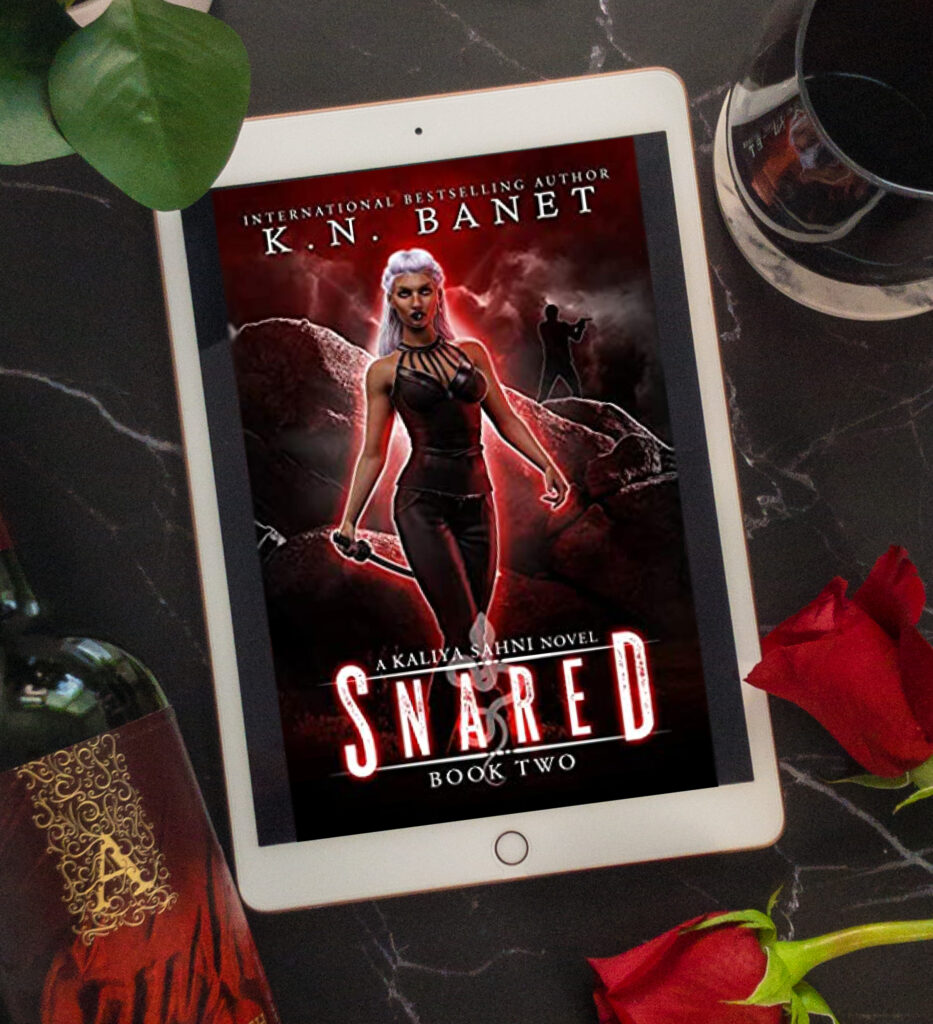 Can we just talk about Sorsha a bit? I think I have a new girl crush !!!! I instantly expected to hate her on Kaliya's behalf but she turned out to have such an interesting story that I'm ready to go learn all about her. Hey, Ms. Banet can we pretty please have a series about Sorsha ????? And can someone gift me one of her weapons for Christmas??
This story is all about Kaliya's uncle for me. Sure a bunch of people broke out of prison and tried to kill Kaliya, but that's really just another day in Kaliya's life.
In this book, I felt myself sympathizing not only with what Kaliya's had to survive but also what her uncle had to endure in the whole ordeal. The author has a way of humanizing someone who has committed one of the most heinous crimes. In the beginning, the book describes her uncle as someone who went on a crazy murderous rampage. But as his story is explained to us, I try to put myself in his shoes, and honestly, if I was an immortal with that kind of power, I most likely would do the same thing. You can feel his love for his species and specifically for Kaliya. His will for her to survive what was done to him. Initially, I saw him as this big powerful evil man and by the end of the book K.N Banet broke him down to almost nothing. A shadow of a man.
I also found new hate for the Maygi in this book. Is the good that they do really outdo all the evil they try to hide? If they can turn a human into whatever Raphael is and lock him up for five years while they run experiments on him, what else can they really do? Part of me resents the tribunal for turning a blind eye to all the things that the Maygi did.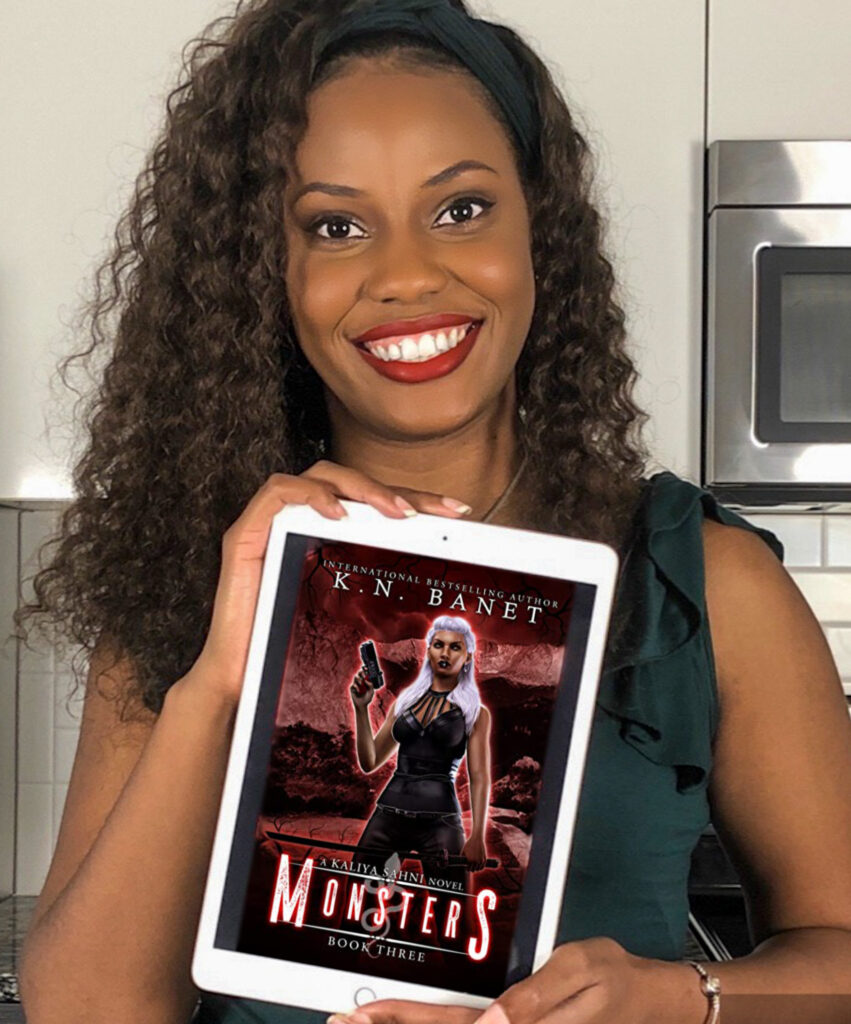 In this book, we also saw some growth from Raphael. In book one, honestly, he was a whiny bitch. Here we saw him grow as a supernatural and as a man. We also saw his feelings for Kaliya blossom. I'm just waiting for Kaliya to tell him that he's her mate so I can watch it all blow up before they have awesome makeup sex.
Monsters- Book Three
In book three, we find them on a wild goose chase for who was the healer in book two.
In this book, we also find out more about Sorsha and her weapons. She is definitely not the airhead socialite she is made out to be in book one. Damn, she's badass and I have a soft spot for badass women. Honestly, the exchange with her Paden made me so interested in her weapons and their story.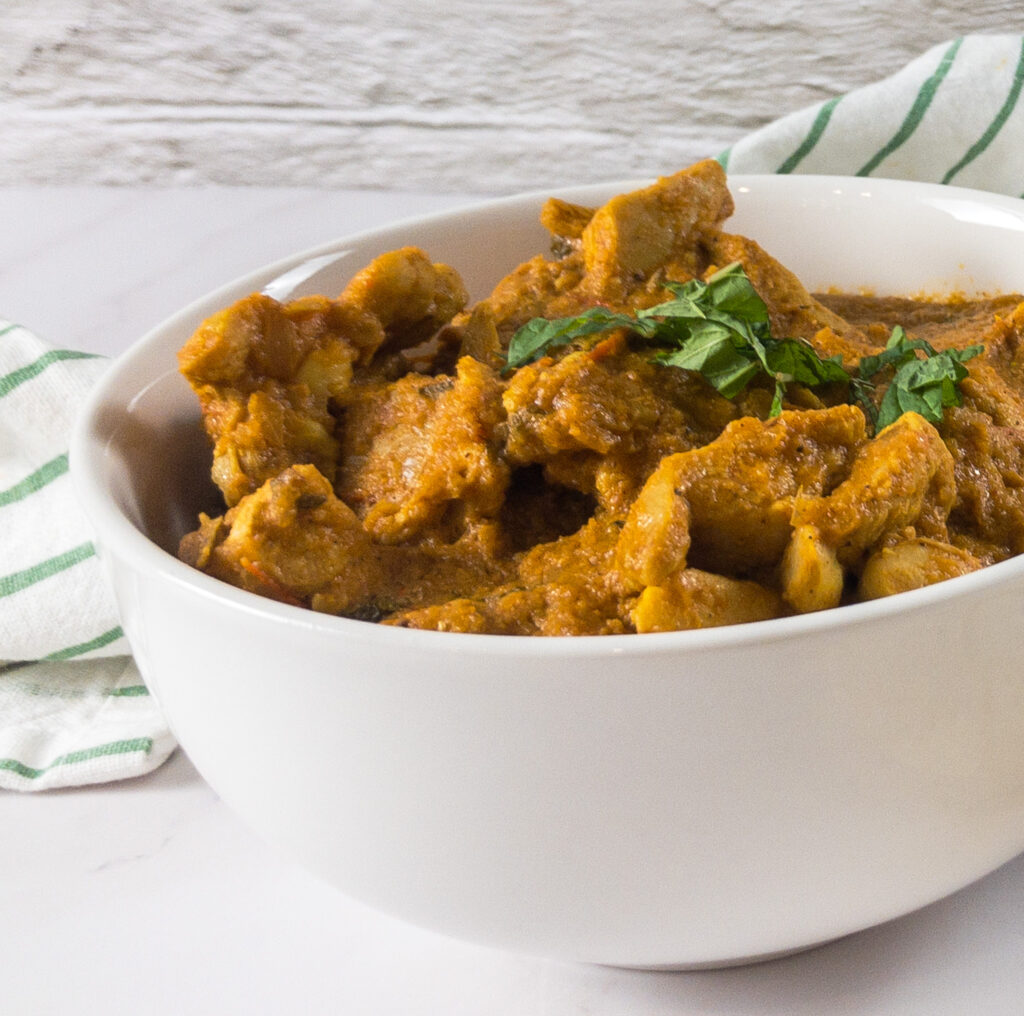 We also get to see a softer side of Kaliya. Before she tried to play it off that she was good by herself, she didn't need a partner. She's so hardened by life and so cut off emotionally that she truly believes that she doesn't need anyone special in her life. But Raphael came and broke through her walls. I don't know if it's because of their compatibility or just because of the situation but I can see the cracks in Kaliya's armor and it's nice to see her softer side.
I don't know why it took me this long to realize but is anyone picturing Raphael like mini hulk? Except not green🤣. Only me? Okay.
This book gives us more clues about what Raphael is and all I have to say is oahhhhhh shit. We also see the full Raphael with all his memories and just let me say, it's sexy as hell. This is the Raphael that's right for Kaliya.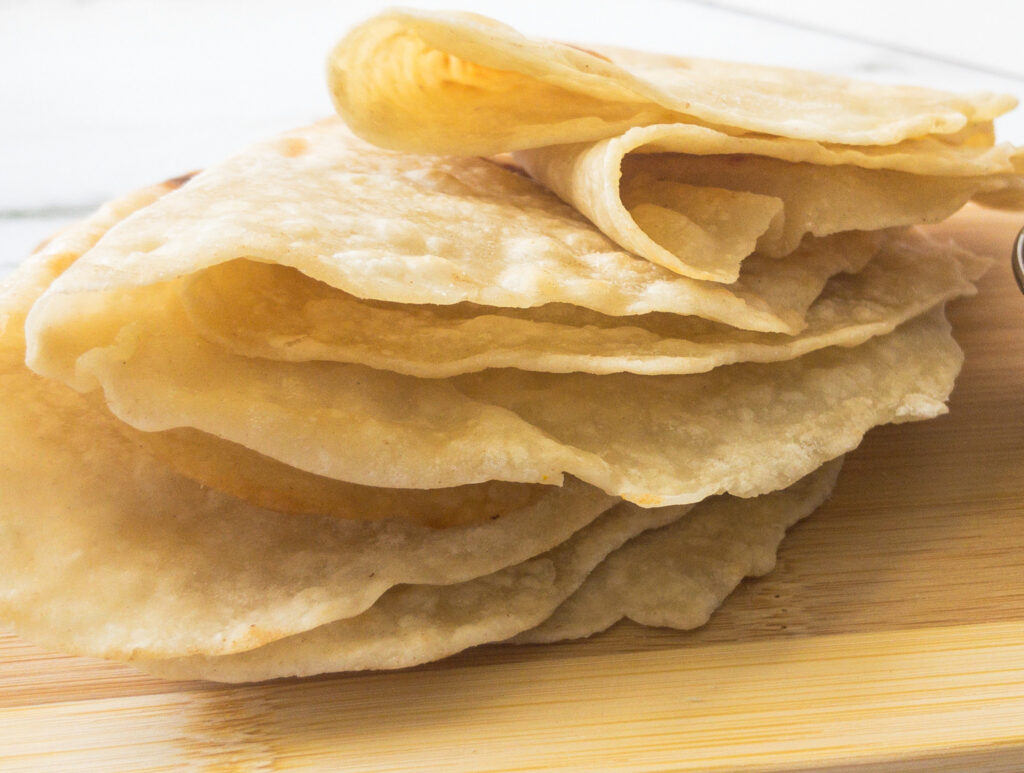 Final Thoughts
I think this book was the best of the series so far. It gave what needed to be given. The character development for Raphael. Showing what happened to him and his people. A conclusion for them.
I got so caught up in Raphael's story that I forgot about Kaliya's situation and thought that this was the last book. Luckily, I was wrong. Time to find out who killed Kaliya's people. Who is hunting them?
Before we forget, this blog is all about cooking the food I read about in books. In this book we find Kaliya reminiscing on the food of her homeland curry. Check out my review on these curry and roti recipes.
Reborn – Book Four
Kaliya is back and ready…….. to avoid Raphael.  But everyone won't let her. Well, Sorsha wouldn't let her. Raphael and Sorsha are scheming to get Kaliya and Raphael back together. This is a battle of who is more stubborn and you can bet that Kaliya is out to prove she's the most stubborn.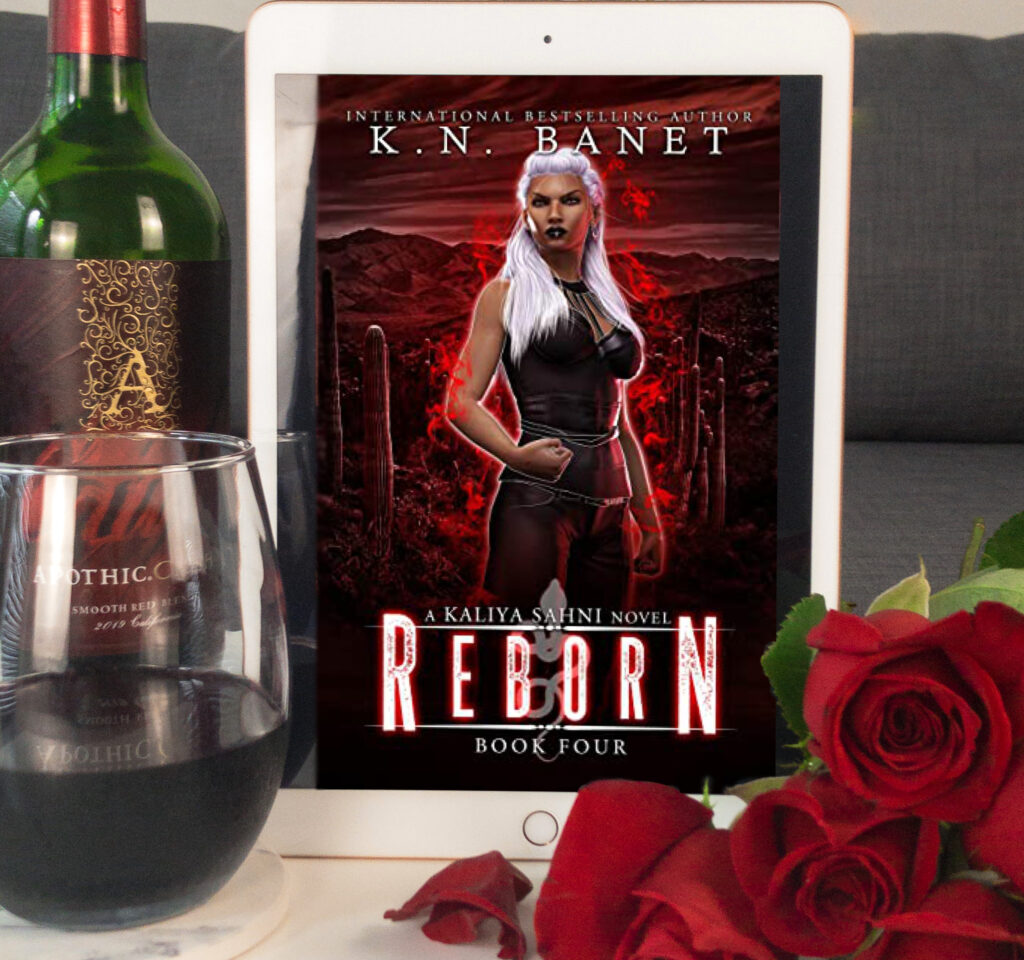 Honestly, this book shows us growth not only with Kaliya but the Cambian species. They are finally free and finding their own place in the world.
I feel like this book went by very quickly. One minute we were looking at Raphael and Kaliya and next thing BAM action BAM a dead witch BAM the end. Maybe that was just me reading super fast.
This book reveals a lot about the players in Kaliya's story. Including who Kaliya was in her past life. If you remember in book one she mentioned that each naga is a reincarnation of a past one. Some people knew who they were before but Kaliya didn't. Well, this story broke that dam, and suddenly Kaliya became even more badass.
For some strange reason, I think it's another naga is who started all this but like Kaliya, I'm paranoid. As I read her story and understand how her mind works, I become even more suspicious of every character in this story who was alive when her parents were.
Final thoughts
When I started this series, I thought all the books were out, otherwise, I wouldn't have started. I'm a binge reader. Sucks that I need to wait until November for the last book. Next, we are going to India. I can't wait for the Indian adventure.
Recipes